Hiring a project manager is about needing expertise, focus and time.
Certain projects are risky, costly and time-consuming. The bigger the project, the more potential there is for budget overruns, scope creep and delays in schedule. A project manager can serve as the trusted advisor and single source of responsibility and accountability for performance during the project so you don't have to.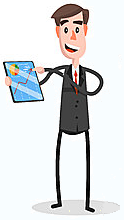 Here's what a good Project Manager will do for you:

Save you time
There are multiple areas in managing a project: dealing with multiple vendors, stakeholders,​ organizing and setting a timeline, managing risk and quality control. A project manager assumes ownership of the project from beginning to end, thereby freeing you up to concentrate on day to day responsibilities.

Save you money
They ensure optimal and consistent service is delivered to the client from all the extensive knowledge and experience they gained over the years developing strong relationships with top class vendors.

Manage Risk
Every project has inherent risk, however, if a problem develops and threatens to derail it a good project manager institutes a clear plan to make timely decisions to resolve the problem and mitigate any other potential risks.

Control the project's scope and parameters from scope creep
A good project manager will provide focus in this area to minimize time or money eating away at the success of a project. Scope creep is usually caused from poor requirements analysis, underestimating the complexity of the project, lack of change control and believing that value is being added. A project manager helps to control all major deliverables and any project boundaries by offering a customized approach for the specific needs and requirements of each client since there is no one-size-fits-all-solution. To ensure optimal project results the project manager can quickly scale up or down in size to match changing project requirements.
Don't have time to do a project quote request, decide on service providers or manage your project ?
Our highly skilled project managers are active or semi-retired professionals who love doing their respective jobs. All have worked a minimum of 8-20 years in various project areas.
Let's see how we can help !