Here's how it works !
You sell a platinum membership plan worth USD475 and a top page Ad worth USD350 in January 2016.
You sell again in February & April. You get 10% commission of USD825 or USD82.5 each month starting January.
Let's see what commissions you could earn over 4 months.
Let's crunch the numbers !
January Sales
February Sales
March Sales
April Sales
Commission Payout
USD825
USD1200
USD 0
USD1000
Januarry Earnings
USD82.5
-
-
-
USD82.5

February Earnings

USD82.5
USD120
-
-
USD202.50

March

Earnings

USD82.5
USD120
-
-
USD202.50

April

Earnings

USD82.5
USD120
-
USD100
USD302.50
You continue to earn USD302.50 every month even if you stop selling as long as the Ads or memberships are active and paid up each month by the service provider.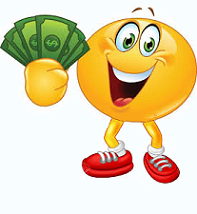 Sell More Get More with GetEZQuotes.com
View or Memberships Plans and Advertising Locations.
Contact us on advertise@getezquotes.com to sign up and learn how you can work for yourself and earn EZ money.